Car Gates
Courion's revolutionary freight elevator car gate system utilizes six easy-to-ship, pre-assembled pieces that work in harmony to improve elevator performance and durability, while substantially cutting down installation time.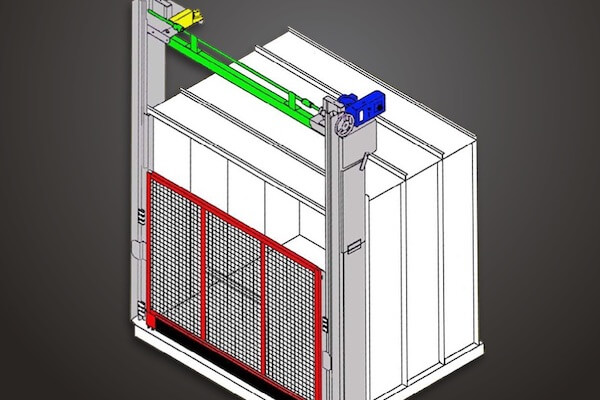 Gate Selection
Courion gates are available for either power or manual operations, and can be furnished in wire mesh or solid panel construction.
Courion wire mesh gates are fabricated of 10 gauge round wire formed in a 1-3/8" (34mm) mesh, crimped in both directions and welded into a tubular steel frame. Note: 3/8" (9mm) mesh is available when required.
Standard gates are 6'-0" (1830mm) high. Full height gates are also available.
Courion car gates are finished in factory standard gray primer. They can also be finished with air dry enamel or constructed of stainless steel.
Solid Panel gates are furnished standard in 18 gauge mild steel, prime painted. They are also available with air dry enamel finish or constructed of stainless steel.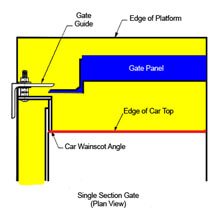 Single Section Gate
(Plain View)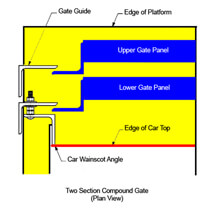 Two Section Compound Gate
(Plain View)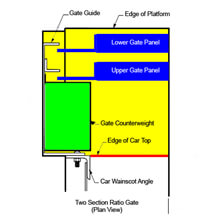 Two Section Ratio Gate
Plain View
Gate Space Requirements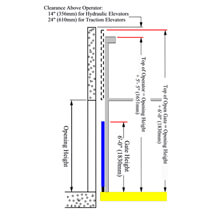 Single Section Gate Space Requirements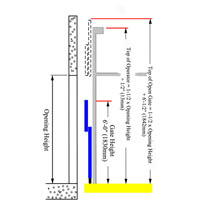 Two Section Compound Gate Space Requirements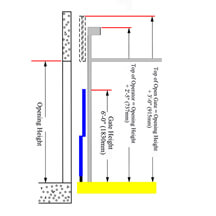 Two Section Ratio Gate Space Requirements
Car Wainscot Panel Set Back Requirements
Car Wainscot Panel Set Back Requirements