CARE Light Curtain
Courion, the company known for innovation in the freight elevator door industry, introduces the next generation of freight elevator door protection – The Courion Automatic Reversing Edge System (C.A.R.E.).
Non-Contact Light Curtain. 35 infra-red non-focused beams fill the opening from floor to a height of approximately 6′ (1866 mm)
Cost Effective. Reduces damage to freight doors normally caused by freight movement.
Easy to install. Power supply mounts directly on car enclosure canopy while edges mount between the gate equipment and running clearance of the car. See Courion's easy to follow CARE Light Curtain Installation Instructions
Retrofitable. Can be added to almost any existing freight door system including Courion, Security Fire Door, Harris Preble and Guilbert.
CARE Light Curtain Specification
CARE Light Curtains

CARE-C Transmitter & Receiver Edges
6′-0″ (1866mm) tall
Includes: (1) Power Supply, (1) Transmitter Cable – 16′, (1) Receiver Cable – 16′, and (1 Pair) CARE-C Light Curtain Edges.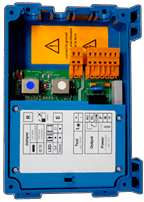 90-514502
90-514503
90-514514
90-514515
90-514504
90-514505
90-514506

CARE-C Transmitter Cable – 16′ White
CARE-C Transmitter Cable – 16′ Blue
CARE-C Transmitter Cable Extension – 10′ White
CARE-C Transmitter Cable Extension – 10′ Blue
CARE-C Transmitter – 84″
CARE-C Receiver – 84″
CARE-C Vision Shield Lens